Braim's Non Switching Power Supply Power AMP
Braim's Power Amplifier makes the maximum extent of your head unit, and proposes true HiFi sounds.
Braim's Non Switching Power Supply 4ch Power AMP HQA-450NS
Japanese price \77,000 (without Tax)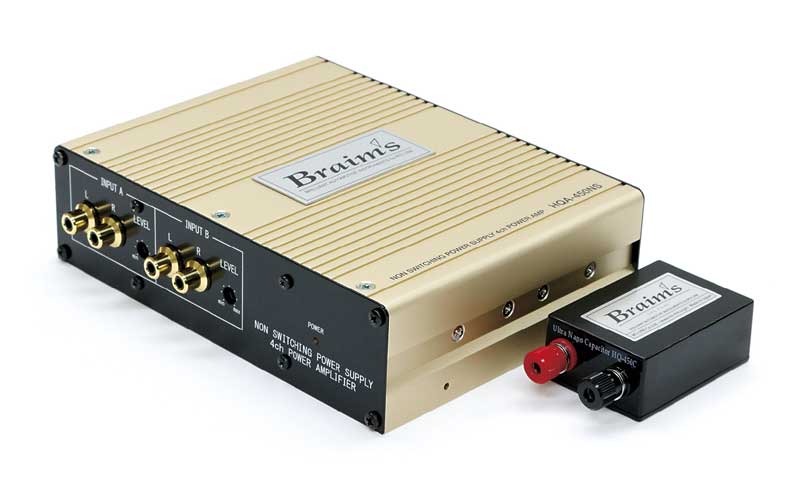 An accessory Braim's Ultra nano capacitor HQ-450C.
Specification of HQA-450NS
High quality sound can be achieved by Non-Switching Power Supply because DC/DC convertor is not used.
A power supply unit adopts 2 power supply circuits of L/R independence and a usual class is exceeded.
The exclusive capacitor of one side 3300uF, 6 are connected to parallel.
The output part is D-MOS FET device. It makes L/R independent to drive, and adapted to 2 Ω of load,
and influence of back electromotive force of a loudspeaker is reduced.
The high-performance isolation amplifier, which restrains normal mode noise is reduced into input part and
mixture of alternator noise, is stopped.
It consists of the part for first-class audio selected carefully by
an audition in the amplification part and a power supply unit.
Braim's Ultra Nano Capacitor HQ-450C with exclusive designs is attached,and power supply
reinforcement is also performed from amplifier outside.
Installation is small and light-weight and become free for low power consumption.
Specification of HQA-450NS
| | |
| --- | --- |
| Rating Output | 25W×4ch(4Ω Load) |
| | 40W×4ch(2Ω Load) |
| Frequency Response | 10Hz〜100KHz(+0/-0.6dB) |
| Input Sensitivity | 0.5V-4.0V |
| Input Impedance | 10KΩ |
| Distortion rate | 0.03% Following(4Ω×4ch,1KHz)10W |
| S/N Ratio | 98dB Above(JIS-A) |
| Channel Separation | 80dB Above(1KHz) |
| Load | 2Ω-8Ω |
| Gain | 26dB |
| Useing Power Voltage | 10.5V-15.4V |
| Idling Current | 400mA(13.8V) |
| Fuse | 15A×1 |
| Maximum peak Current | 9.3A |
| Size(W×H×D) | 178mm×50mm×140mm |
| Weight | 1.4Kg |
Attention: A this machine can't do a bridge connection.
Attachment
Braim's Ultra Nano Capacitor
HQA-450NS exclusive use and the audition are repeatedly performed, and finally HQ-450C has been developed.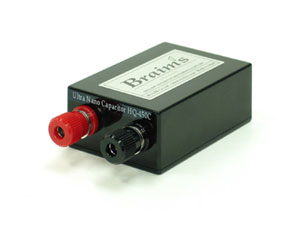 Non Switching Power Supply
The voltage of normal Car audio amplifier is a battery (13.8V),
Power changes into direct-current voltage of plus or minus (example:+30V/-30V), and supplies it into an output part,
and power is acquisite.
As the boosting pressure occurs, DC/DC converter is necessary, and the voltage of the battery (13.8V) makes switches.
And you can be led to a transformer, rectify the proportional output voltage,
compared with the volume number and got direct-current voltage of plus or minus.
The pulse noise which occurs then affects the sound quality.
The pulse noise mixes it in the power supply line and has an influence on an amplified electric circuit of
a power amplifier by radiation (it is diven from the air.)
The DC/DC convertor isn't used for Braim's Ultra power amplifier HQA-450NS,
so by the power supply it's called
"Non Switching Power Supply,"
and there is no mixture of pulse noise with bad influence in the sound quality at all in the amplifier,
all amplified electric circuits are driven.
The noise measurement
A noise wave pattern of the loud speaker output.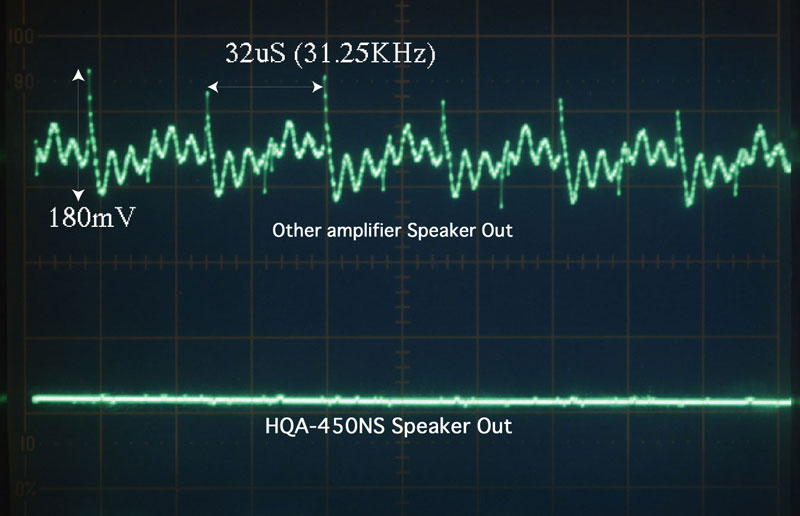 The measurement condition
| | |
| --- | --- |
| Power supply voltage | DC14.4V |
| Load resistance | 4Ω Register |
| Gain | MAX |
| Input RCA terminal | Open |
| Horizontally | 20uS/cm |
| Vertically | 100mV/cm |
High Quality Parts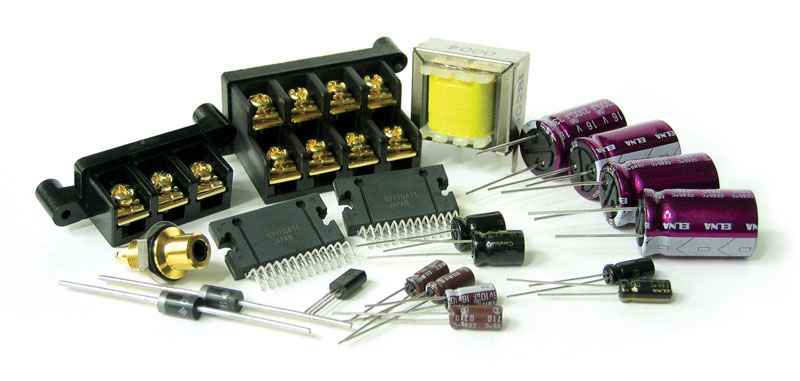 Braim's is an original brand of M'S LINE CO,.LTD
Contact us e-mail:
office@ms-line.co.jp