Braim's Ultra Capacitor
Braim's Ultra Capacitor supplies an ideal electric current for a car stereo system to make them show the head unit and performance of the power amplifier.
Braim's Ultra Capacitor HQR-1.3F
1,300,000uF
Japanese price \39,000 (without Tax)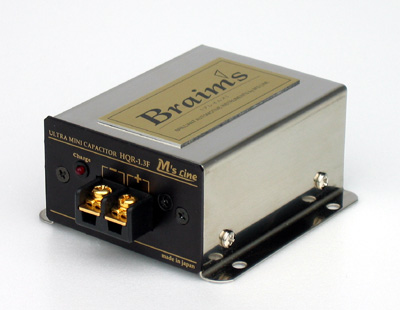 The size is extraordinarily small (6.5 cm x 4.0 cm x 8.5 cm) with weight only 310 grams, Braim's Ultra Mini Capacitor 1,300,000uF Model.
1F of the usual type is also excellent, but this is much smaller. Weight is about 1/ 5 and size is about 1/10, and a space performance is excellent.
You can make the connections M4 screw specification and connect 8 gages of ring terminal surely.
It is small enough, so you can install this near the power amplifier or under the seat for instance.
This installation in the compartment is an exclusive with metal case model.
Comparison with other models
Left:HQR-25.2F Center:HQR-12.6F Right:HQR-1.3F

Specification of HQR-1.3F
Super low Impedance Ultra Capacitor
Capacity of 1,300,000uF(1.3F)
Max voltage 16V
Built in conservation circuit
Size (W×H×D)  65mm×40mm×85mm
Weight 310g
Attention:You can't use HQR-SERIES inan Engine Room.
Braim's is an original brand of M'S LINE CO,.LTD
Contact us e-mail:
office@ms-line.co.jp