Braim's Ultra Capacitor
Braim's Ultra Capacitor supplies an ideal electric current for a car stereo system to make them show the head unit and performance of the power amplifier.
Braim's Ultra Capacitor HQR-25.2F
25,200,000uF
Japanese price \210,000 (without Tax)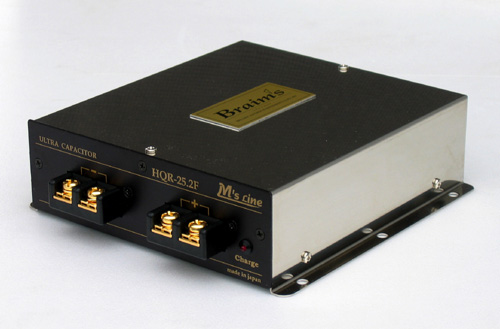 This is the largest model 25,200,000uF in Braim's Ultra Capacitor.
Super low impedance 6,300,000uF adopted 4 parallel prolongation structures.
The inner impedance is reduced to 50% of the model 12.6 uF model.
You can install this near the power amplifier or under the seat, etc.
M6 screw terminal was used for connections, and it was equipped with 2 systems of plus side and
2 systems of minus side.
A large amplifier and a large system can be adopted.
4 gages of ring terminal can be connected.
It's most suitable for a large system with more than one power amplifier.
And a metal case model is suitable for inside of your car.
The protection circuit of connecting conversely is also installed, so it is considered safely.
Comparison with other models
Left:HQR-25.2F Center:HQR-12.6F Right:HQR-1.3F

Specification of HQR-25.2F
Super low Impedance Ultra Capacitor
Capacity of 25,200,000uF(25.2F)
(4 Parallel connection of 6,300,000uF)
Max voltage 20V
Built in conservation circuit
Size (W×H×D)  170mm×55mm×185mm
Weight 1,800g
Attention:You can't use HQR-SERIES in an Engine Room.
Braim's is an original brand of M'S LINE CO,.LTD
Contact us e-mail:
office@ms-line.co.jp