Braim's Ultra Capacitor
Braim's Ultra Capacitor could install in the engine compartment and adopt a high-temperature resin case.
Braim's Ultra Capacitor@HQ-12.6F
12,600,000uF
Japanese price \105,000 (without Tax)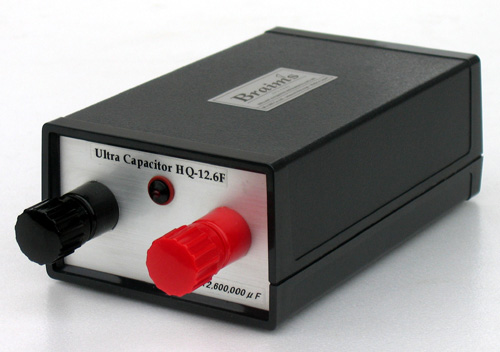 Standard 12,600,000uF of Braim's Ultra Capacitor is heat-resistant rasin case model.
Parallel prolongation structure of super-low impedance 6,300,000uF is adopted and more inner impedance is reduced.
Because it's a high-temperature resin case model, it's possible to install it in the engine compartment.
It's also effective in vehicle electrical assistance equipment as well as improvement of a sound of a car stereo, and it leads to improvement of the mileage and acceleration.
It's small enough to install near the power amplifier and under the seat.
And 12.6F is strong enough to strengthen the head unit, a power amplifier and a point of an LCD monitor.
The protection circuits of connecting conversely, charge indicator are also installed, so it is considered safely.
Specification of HQ-12.6F
Super low Impedance Ultra Capacitor
Capacity of 12,600,000u'e(12.6F)
(Parallel connection of 6,300,000uF)
Max voltage@20'u
Built in conservation circuit
Size (W~H~D)@@90mm~55mm~150mm
Weight@700g
Installation metal fittings attachment
The data of improvement of HQ-12.6F
Braim's is an original brand of M'S LINE CO,.LTD
Contact us@e-mail:
office@ms-line.co.jp